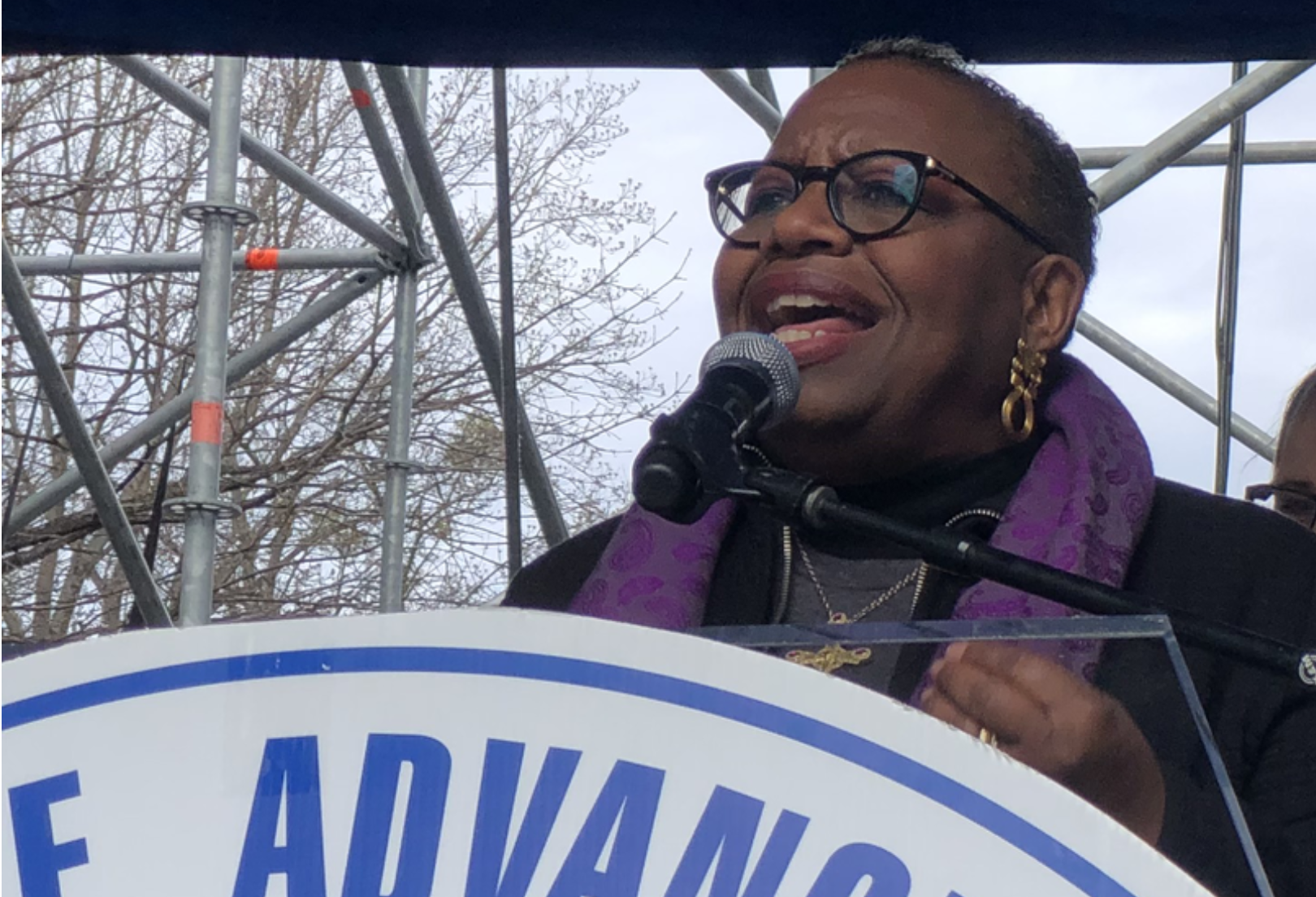 Letter from the Executive Director
Dear Community,
As we enter this important election cycle, I am mindful of the fact that we just finished Black History Month and are entering Women's Herstory Month.

The role Black people played in building the wealth in America cannot be overstated. 400 years of free labor; a prison industrial complex that has an insatiable appetite for Black and brown bodies; a health care industrial complex that consistently provides subpar access to quality services and affordable medications (which leads to higher rates of serious illness and thus dependence on the very system that led to the need for high levels of care) are just a few of the ways we are used to fuel the juggernaut that is the American economic system.
Women, similarly, have been used to do more work for less pay and are asked to not complain because we are doing better now than in years gone by. Women have raised much of the money that built and sustains our religious and non-profit institutions, yet are still often overlooked for leadership roles. The "Me Too" Movement exposed how far we still have to go for women to be safe and able to decide who has access to our bodies and when. The attacks on reproductive justice and the reduction of funding for programming and care for children is also unconscionable.
Here is the good news: Women and Black folk...people of color and the poor...immigrants and young people...these marginalized groups will determine who the next President of the United States is and who will govern our cities, counties, and states. That power — if used with intentionality and in mass — cannot erase the wrongs of the past, but it can certainly put us on the right path for a more just and equitable tomorrow.
The work of the Freedom Center for Social Justice is about the type of culture shifts that will have candidates like the women, people of color and sexual minorities who ran for President in 2020 be the new normal. GET OUT AND VOTE!
Sincerely,
Bishop Tonyia M. Rawls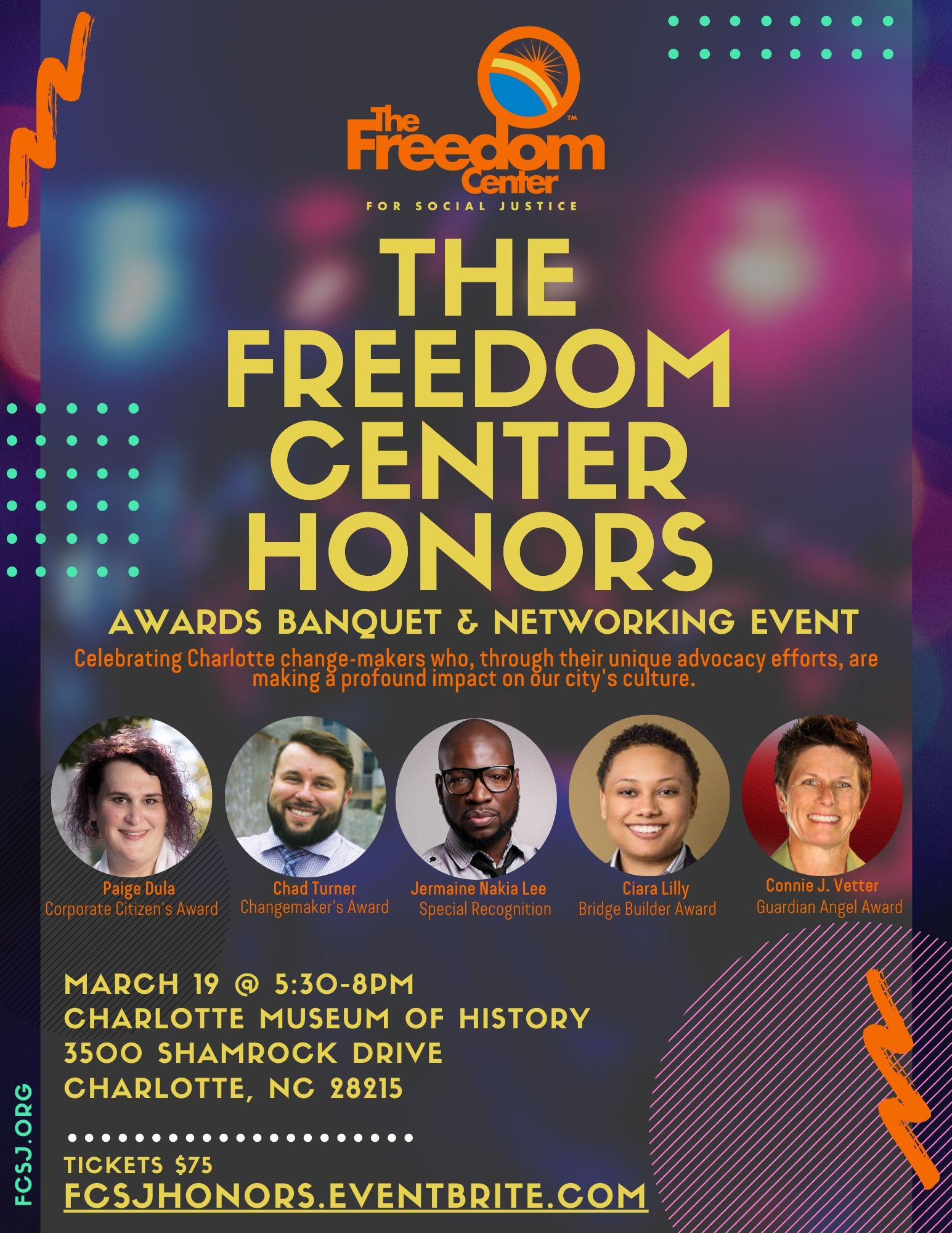 Join us for a night of reflection, celebration, and connection!
We are honored to celebrate community leaders who share our vision to shift culture away from oppression and discrimination and towards protection and liberation. At our inaugural Freedom Center Honors Awards Banquet & Networking Event, we will be recognizing the contributions of the following people who are enacting culture-shift in their own unique ways:

★Jermaine Nakia Lee (Poor No More Project) - Special Recognition for Service Above and Beyond the Call of Duty - For creating a cutting edge program that meets a very real need for the most in-need within our community.
★Connie Vetter (LGBT Attorney at Law) - Guardian Angel Award - For her more than 20 years of legal service to LGBTQ people and our families
★Ciara Lilly (Higher Ground Consulting Group) - Bridge Builder Award - For the work she has spearheaded for women, people of color and LGBTQ people in contracting
★Paige Dula (Bank of America) - Corporate Citizen's Award - For the corporate leadership Bank of America has shown and for the work Paige has done to shatter glass ceilings within the organization
★Chad Turner (Charlotte LGBT Chamber of Commerce) - Changemaker's Award - For the leadership the Charlotte LGBT Chamber has shown and the doors it has helped open for LGBTQ and allied businesses and professionals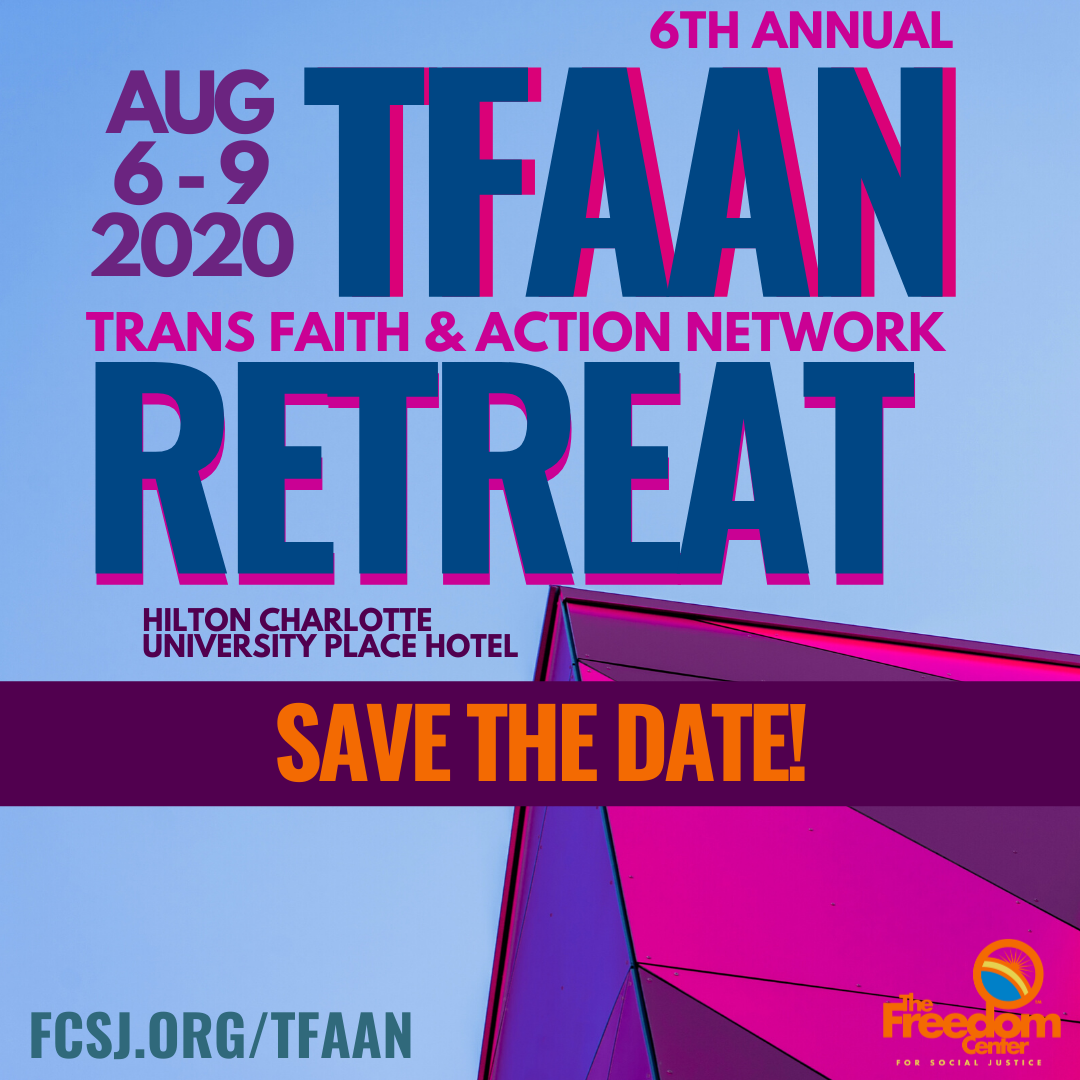 2020 TRANSGENDER FAITH AND ACTION NETWORK (TFAAN) RETREAT - Aug 6 - 9, 2020. The TFAAN Retreat is an opportunity for transgender, two-spirit, gender non-conforming, and non-binary people to decompress, be heard, engage, and collaborate with like-minded community. The TFAAN Retreat is the legacy of trans* folks of color coming together under a shared vision of people growing their power individually and collectively. At this year's retreat, we will be recognizing the contributions of those who paved the way before us.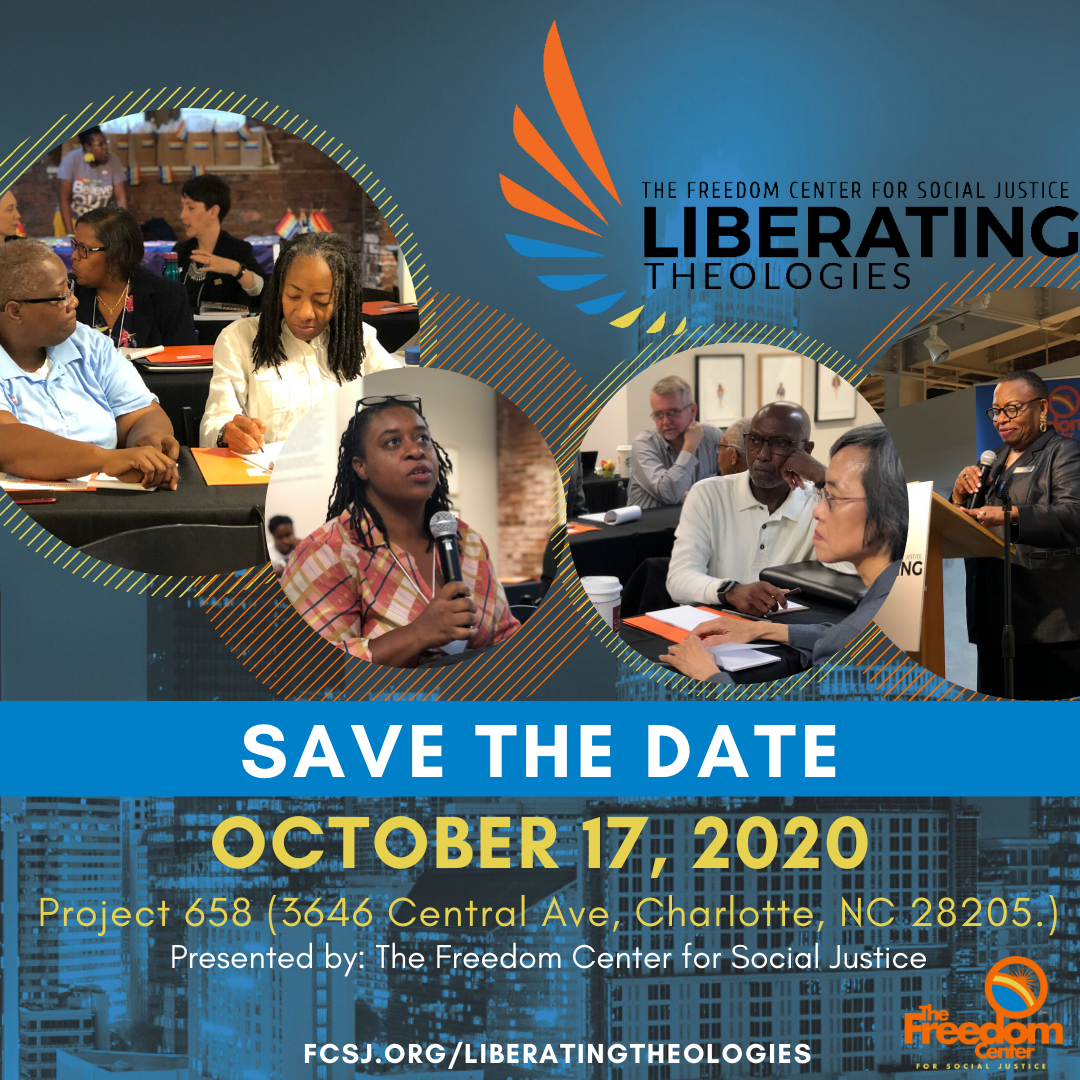 2020 LIBERATING THEOLOGIES SPEAKER SERIES - October 17, 2020, 8:30AM - 4:00PM. The Liberating Theologies Speaker Series is an extension of our Do No Harm initiative, which works with people of faith and the broader community in North Carolina to shift culture and narratives that cause harm through interpretation of Holy Text and other religious writing.

This Month, we will be hosting two free film screenings of Paris is Burning and Jewel's Catch One.
These screenings reflect our intention to bring in cultural arts to our programming and to connect with the communities we serve in a different way.
Paris is Burning is a 1990 American documentary film directed by Jennie Livingston. Filmed in the mid-to-late 1980s, it chronicles the ball culture of New York City and the African-American, Latino, gay, and transgender communities involved in it. Also touching on issues of racism and poverty, the film features interviews with a number of renowned drag queens, including Willi Ninja, Pepper LaBeija and Dorian Corey.
Jewel's Catch One's documents the oldest Black-owned disco in America and establishes the legacy of businesswoman, activist, and healer, Jewel Thais-Williams, who stood up against hate and discrimination for 42 years.
Dates and times for the screenings will be announced soon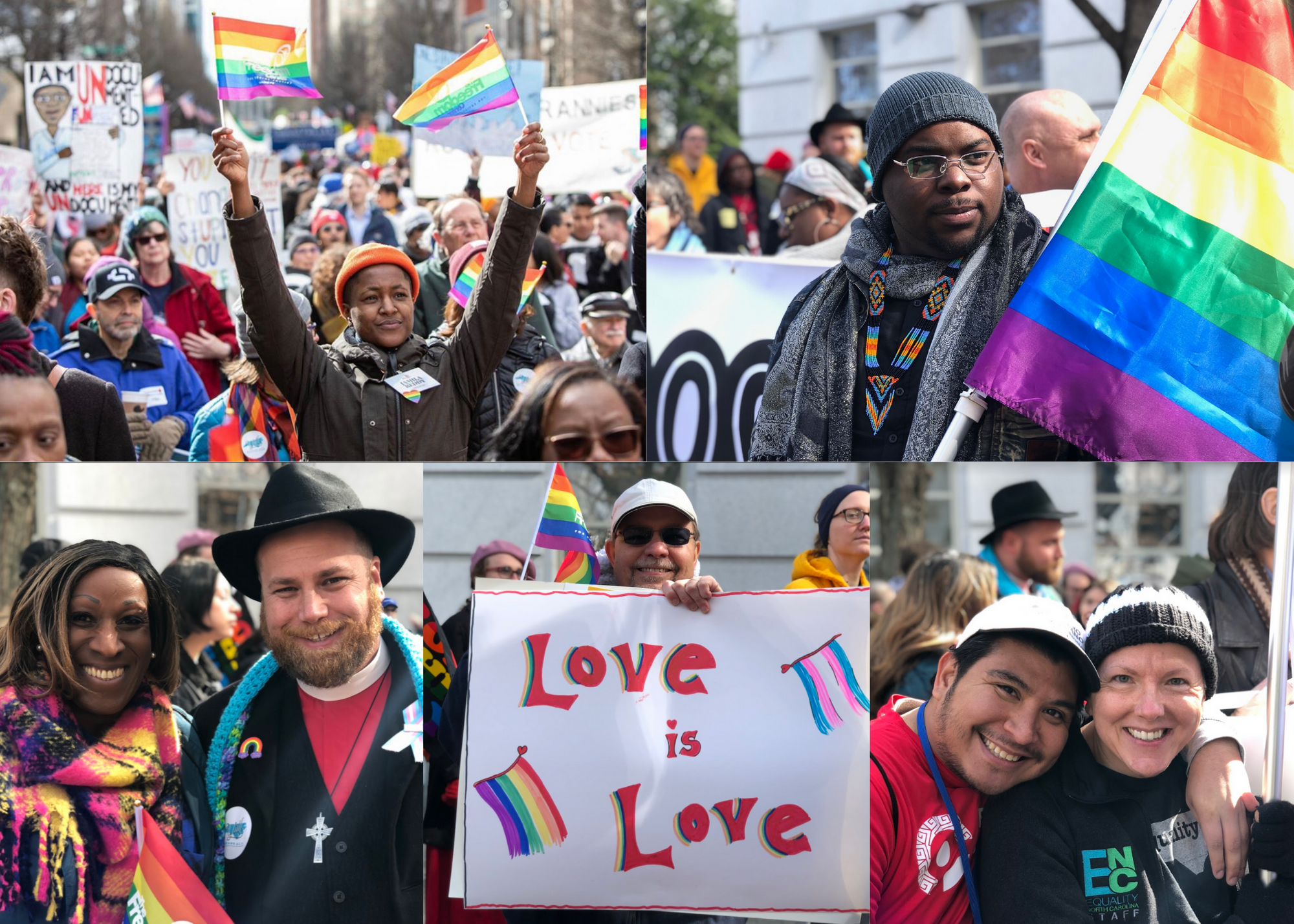 Making History with the Largest Contingency of LGBTQ People and Allies for the Moral March on Raleigh and HKonJ People's Assembly
This year, the LGBTQ Committee of the NC NAACP made history by establishing the largest contingency of LGBTQ individuals and allies for the People's Moral March and People's Assembly. The group, called the 1000STRONG Coalition, was done in partnership between the NC NAACP, The Historic Thousands on Jones Street Coalition and The Freedom Center for Social Justice. Sponsors included PFLAG, Unity Fellowship Movement, Equality North Carolina, LGBTQ Democrats of NC and QNotes.
The coalition joined together to celebrate the full humanity of LGBTQ people while lifting up the intersectional needs of the community, and demanding an end to anti-LGBTQ legislation, organizers shared.
Members of North Carolina's LGBTQ community spoke on the main stage, sharing personal stories about gaining the right to marry, the homelessness crisis facing transgender women, the multi-faced discrimination experienced by those in the LGBTQ community, and more.
"We made a bold statement to NC representatives that LGBTQ rights are civil rights, and that the intersectional needs of their residents cannot be ignored," said Ezra Fairley-Collins, the Freedom Center's Intersectionality Programs Manager.
Jessica Hulik, director of civic engagement and politics at Equality North Carolina, said, "Marching with this coalition of LGBTQ organizations from across NC, felt extremely powerful."
Reina Pozo, Charlotte native and recent graduate from Chowan University, marched with the coalition as an ally and called her experience "inspirational and truly humbling." "It grew my respect and love for the power that is the LGBTQ community. I gained a new sense of community and perspective on the world."
The day before the rally, as part of the pre-march event programming, the LGBTQ Committee hosted a leadership summit where LGBTQ leaders and allies generated ideas about how to work together in more impactful ways.
"This historic effort exceeded our expectations," shared Bishop Tonyia M. Rawls, the Inaugural Chair of the NC NAACP's LGBTQ Committee. "Yes, we wanted to send a message to N.C. legislators to advance LGBTQ rights and protections, but we also consider it a major victory that so many of our LGBTQ siblings felt represented, loved, seen and affirmed by the coalition."

Introducing Our Board of Directors
We are in the fifth year of a 5-year strategic plan, and one of our goals was to expand our Board of Directors. It was a priority for us to get bright-minded people committed to social justice as part of our leadership team. We're excited that we've been able to accomplish that goal! We're thrilled to introduce you to the Board of Directors of the Freedom Center for Social Justice. Our work wouldn't be possible without them.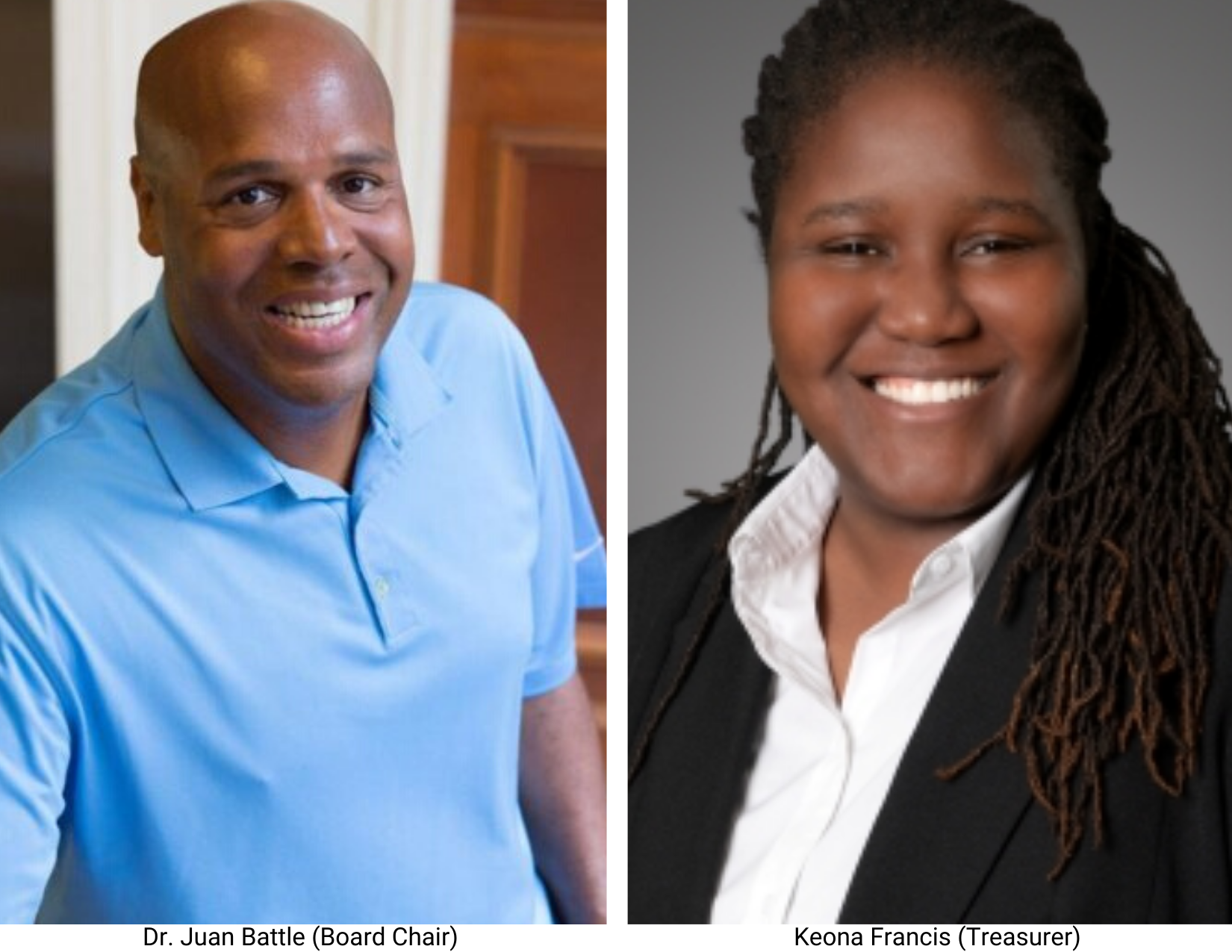 Introducing FCSJ Board Members: Dr. Juan Battle (Board Chair) and Keona Francis (Treasurer)
Juan Battle (he/him/his) is a Presidential Professor at the Graduate Center of the City University of New York (CUNY); where he holds appointments in Sociology, Urban Education, Social Welfare, the School of Public Health & Health Policy, as well as the School for Labor and Urban Studies. Additionally, he is the Coordinator of the Africana Studies Certificate Program. With over 100 grants and publications, his research focuses on race, sexuality, and social justice. His international experience as a Fulbright Distinguished Chair of Gender Studies, extensive background in Sociology and experience on numerous community-based boards, brings a unique and valuable perspective to the Freedom Center for Social Justice's Board of Directors.
Keona Francis (she/her/hers) is a Texas native who grew up in North Carolina. She has extensive knowledge of the different cities and neighborhoods across the Piedmont area. Keona received her Bachelor of Science in Kinesiology and a minor in Psychology from the University of North Carolina, Greensboro. Keona is a Licensed REALTOR® (SLS, ABR) in North and South Carolina who brings both a strategic and personable approach to the home buying, selling and investment management process. Drawing on her multiple years of experience in logistics management, Keona has built a reputation for her refreshingly friendly customer care and proven ability to guide buyers to obtain the best value for their dream home and to assist sellers to a smooth, stress-free sale of their properties to enhance their future. Keona has also spent many years working with the local service organizations (Women's and Men's Shelters of Charlotte and the Urban Ministries) in the placement of individuals and families in affordable housing after life and financial setbacks. Working with affordable housing individuals has made her work as an Asset Manager extremely valuable. Keona manages the daily and long term futures for her real estate investment clients. Keona believes in the motto, "Each one, teach one, reach one". No matter what we do in life we should all do our best to impact someone else in a positive way.
Rent Our New Space! - The NC Center for Diversity and Inclusion is Now Open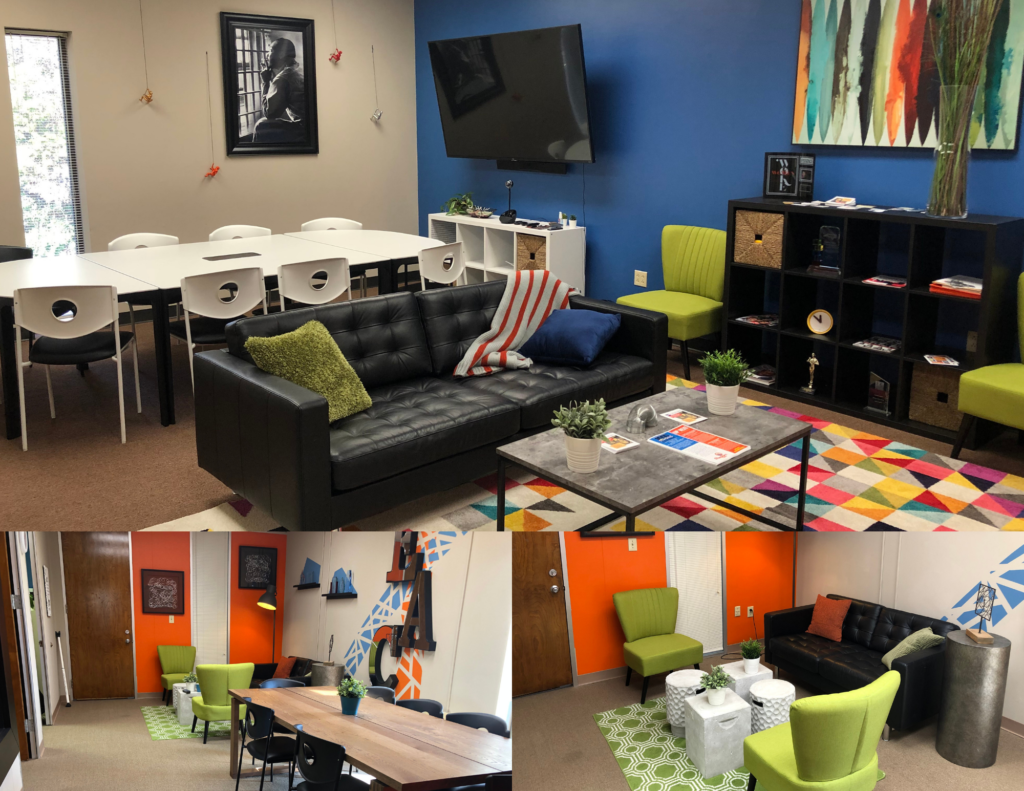 The NC Center for Diversity and Inclusion, a project of The Freedom Center for Social Justice, is a space for gatherings, workshops, events and co-working. We are especially excited to welcome folks offering trainings, workshops, and programs that move our state towards inclusivity for the most marginalized. The Center is located at 4921 Albemarle Rd., Charlotte NC, 28205 (Suite #204). If you would like to rent the space, please email our Operations Manager, Resa Baudoin, at resa@fcsj.org.
The Freedom Center for Social Justice is a culture-shifting organization committed to the growth, safety, and empowerment of marginalized populations. Our vision is a world where equal protections and opportunities exist for all. Through advocacy, community education, and faith-based organizing, we are committed to providing the support that opens doors, raises awareness and creates life-giving change.